Welcome to the UConn ISM Sports Performance Clinic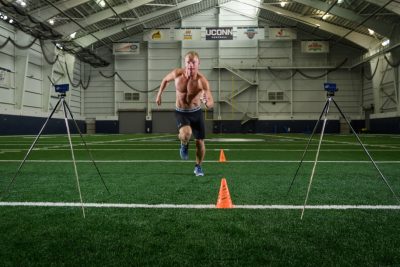 The UConn ISM Sport Performance Clinic is devoted to providing a customized approach to evaluating and correcting whole body movement control and improving musculoskeletal health. Utilizing various movement screening tools, the Sport Performance Clinic staff can highlight injury risk factors, address muscular imbalances, movement compensations and joint mobility. In addition, our staff provide individualized training to help address underlying biomechanical issues to reduce the risk for acute and chronic conditions. Regardless of age, physical ability, or athletic skill, the Sport Performance Clinic can provide benefits to anyone who is physically active.
Sport Performance & Enhancement
Improving your physical ability and skills necessary to excel in your sport is what we strive to do. Our sport performance training identifies and properly corrects any movement inefficiencies that will help improve your ability to perform. We also can help address underlying causes of both acute and chronic overuse conditions or movement restrictions even if they have not yet led to medical care. If you are wondering about the quality of your exercise routine, how you can master or tweak certain movements or sport skills or whether you're truly optimizing performance ability, the staff at the UConn ISM Sport Performance Clinic are here to help you get there.
Our services include:
Identify injury risk factors focusing on the entire kinetic chain
Full body athletic movement screens
Video motion analysis evaluating joint motion and kinematics during sport specific tasks
Improve athletic & physical performance focusing on muscular strength, endurance, power, agility
Multi-joint/multi-planar focused training
Injury prevention movement techniques integrated throughout training
Sport/activity-specific training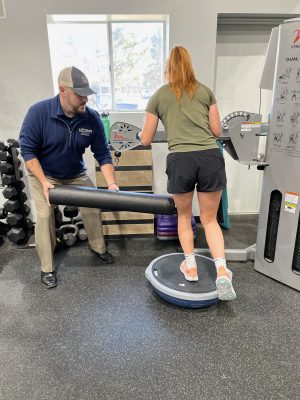 Who Can Benefit
Competitive and recreational athletes of all ages who wish to improve performance, reduce risk of injury or prefer to exercise with professional supervision can benefit from evidence-based strength training and performance programs.
What to Expect
A 90 minute initial assessment completed by corrective exercise & performance enhancement specialists will include a review of medical history and training experience, goals, testing of strength, mobility, flexibility, posture and functional movement screens.
Following the assessment, a comprehensive strength and conditioning program will be designed around the athlete's needs. During the 1 hour follow up sessions, our expert staff will safely instruct individuals through sport performance training. The program will be designed to progressively challenge and improve strength, power, balance, flexibility, mobility, agility, speed, coordination and conditioning necessary for optimal performance.
Scheduling
Sessions are available by appointment only and subject to availability.
Schedule your appointment today!