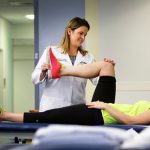 UConn Health Orthopedics & Sports Medicine
The region's premier choice for orthopedic care and sports medicine. From the management of complex joint, muscle, and ligament disorders to sprains and strains, their specialists understand the importance of training, conditioning, non-surgical rehabilitation, and surgical interventions. Plus, they harness the unique nature of being part of an academic medical center by collaborating with scientists and researchers to find the fastest, most effective treatments for you.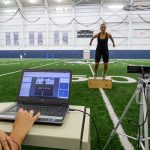 UConn Department of Kinesiology
Optimizing health, wellness, and performance through research, community engagement, service and teaching excellence. Through an interdisciplinary approach, the Department of Kinesiology trains the next generation of exercise and healthcare professionals through programs in athletic training, exercise science, physical therapy, and exercise prescription. Faculty are renowned for their research and expertise in the areas of heat and hydration, injury prevention, and strength and conditioning.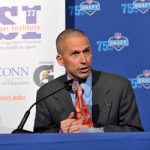 Korey Stringer Institute
The Korey Stringer Institute (KSI) provides research, education, advocacy, and consultation to maximize performance, optimize safety, and prevent the sudden death of active individuals and athletes. KSI performs a range of athlete testing in its state-of-the-art MISSION Heat Lab. They also work with a range of organizations from local high schools to the N.C.A.A. and U.S. Army to assess or develop best practices, policies, and emergency action plans.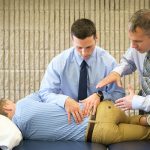 Nayden Rehab Clinic
The Nayden Clinic provides high-quality outpatient physical therapy services to the UConn community and residents of surrounding towns. Patients benefit from the highest levels of evidence-based physical therapy practice and state-of-the-art research. With private treatment rooms and three dedicated treatment gyms, the Nayden Clinic offers patients a friendly, relaxed environment to recover, relieve pain, and improve movement.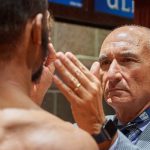 UConn NeuroSport
NeuroSport is a comprehensive program for athletes who suffer from neurologic injuries and persistent neurologic conditions. Combining the medical disciplines of sports neurology and orthopedics, NeuroSport specializes in the diagnosis, treatment, and rehabilitation of concussions and other forms of traumatic brain injury, spinal injuries, epilepsy, multiple sclerosis, migraine, stroke, and damage to peripheral nerves.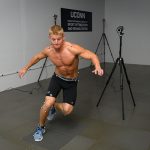 SOAR Lab
The Sport Optimization and Rehabilitation (SOAR) Lab is a state-of-the-art multidisciplinary research division with the mission to promote lifelong physical activity to improve the health and wellness of physically active individuals at risk for, or suffering from, musculoskeletal injuries. SOAR offers comprehensive screenings and risk profiles, post-operative ACL rehabilitation assessment plans, injury prevention workshops, and more.
thin decorative stripes pattern